Ring, Fan of the Sea, Pearl, Rose Gold Accents
Regular price
Sale price
$230 AUD
Unit price
per
Sale
Sold
Share
H8mm
Other size options available

A solid sterling silver band style ring featuring a white freshwater pearl and rose gold accents.
Also available with yellow gold accents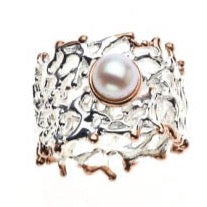 About the artist
Today Keiko travels the world hand selecting the gemstones that add sparkle and colour to her designs. Her original creations are brought to life with the help of a select group of skilled artisans, with each piece months – sometimes years – in the making. Keiko has built an international reputation creating bespoke pieces for a diverse clientele.
Keiko has now made the transition to creating her own limited edition jewellery lines. Each piece is steeped in meaning, designed to evoke a feeling or favourite moment in the wearer. Her aim is to create jewellery that is not only a pleasure to wear, but seductive and emotive; turning the beautiful into the breathtaking, and the glamorous into the glorious. In Keiko's words "My art is about capturing and communicating the beauty that surrounds us in exquisite pieces of jewellery. The genesis is always an experience I want to share, and a predominant focus in my work is to find the magical fusion between contrasting elements such as: lightness and darkness; refined elegance and liberated boldness; and my Japanese and Australian cultures".
Keiko's sterling silver 'Rockpool' collection and her 18 karat gold 'Ocean Intrigue' collection are inspired by her love for the sea, which, growing up in, and currently living on the coast in Western Australia, forms an integral part of her life. Keiko's designs are a poetic development of ideas that inspire a deep passion for life, love and beauty. Her work invites people to share and connect with the subject and others.
Keiko's aim in life and in her work is to evolve, which she strives for by continually applying the principle of kaizen (continuous improvement). Her goal is to create inspirational pieces of alluring beauty – jewels that captivate both the eye and imagination. "When the materials and finishes I've employed result in a delightful alchemy of allure and magic, I know a piece is done".
More by Keiko Uno