River Tracks, Kalgan River
Regular price
Sale price
$650 AUD
Unit price
per
Sale
Sold
Share
Image: 22cmH x 15cmW
Framed: 45cmH x 16cmW
Pastel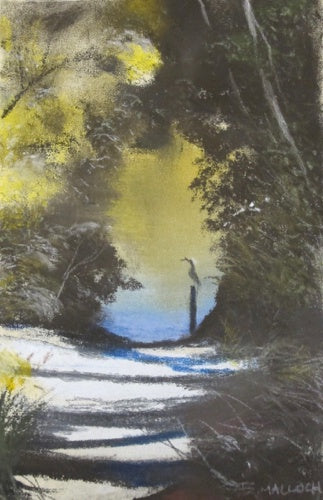 About the artist
Bruce was born in Cottesloe, Western Australia in 1936, and his early years were spent in the Western suburbs of Perth. He also spent time in Katanning during his childhood and this contributed to him developing a passion for the landscape and its isolation.  Upon completion of his schooling, Bruce pursued a life as a Jackaroo on sheep stations in the rugged De Grey and Pilbara regions of Australia's North West.
These early experiences in the harsh outback led to sketches of his fellow stockmen, their horses and the unique landscape. Bruce returned from this remote area to Perth, where he studied at the Perth Technical College before entering the advertising industry. He worked as an Art Director in Sydney and Perth prior to commencing a full time profession as an artist.
Bruce has become renowned for his evocative depictions of the Western Australian goldfields, it's mining background, the towns and their colourful pub characters, along with the north west mustering and racing scenes. He has an appreciation of horses and they have become a popular subject in his appealing paintings. Working in oil, gouache and watercolour, Bruce captures the essence of the Australian landscape and its flora and fauna.
Bruce has participated in numerous solo and joint exhibitions around Australia. His work has been purchased by corporations in Australia and is held in private collections in the USA, Japan, UK, Germany and Singapore.
Bruce has also been the recipient of many prestigious art awards.
More by Bruce Malloch