Oh Yes, I'm the Great Pretender, Laughing Kookaburra
Regular price
Sale price
$3,550 AUD
Unit price
per
Sale
Sold
Share
Image: 77cmH x 77cmW
Watercolour and gouache on canvas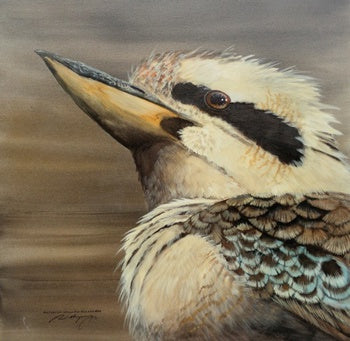 About the artist
Paul Margocsy developed a love of painting at an early age. He became engrossed in wildlife art and this passion lead to his research in ornithology. With no formal art training, and through experimentation, he has become a renowned and highly acclaimed artist. His paintings are more than simply paint on paper. Through precise detail, the fine rendering of feather and eye and claw, in watercolour and opaque gouache, the viewer sees a bird rather than a painting. We are tempted to bypass the brilliance of the painting for the wonder of the bird itself. With a photographic memory, and prodigious drawing skills, Paul is able to capture more than a visual truth. Through observation and knowledge of different bird species behaviours, he captures the character and charm of his subjects. 

 
In 1990 Paul was included in a book presenting 70 of the best living, traditional and realist artists in Australia. In 1991 Australia Post commissioned him for a stamp issue on water birds and, in 1994, he completed a commission for the United Nations of an endangered species series and this was released in Vienna.
Paul has released two books on his art with his latest release titled "Away With the Birds". His greatest achievement to date is being selected to exhibit at the Leigh Yawkey Woodson Art Museum, "Birds in Art" exhibition in America, making him only the third Australian to be chosen in 20 years. His painting was chosen to tour America for one year, with 80 of the world's best wildlife artists. Paul has been honoured with a fellow membership to "The Wildlife Art Society Of Australasia" for services to the Society and Wildlife art. 
More by Paul Margocsy